Harrogate Borough Council - Local Development Framework
Following adoption of the Council's
Core Strategy
, HBC are planning for the construction of about 390 new dwellings per year up to 2023/24. Most of this growth will take place in Harrogate, Knaresborough and Ripon but there will also need to be growth in the rural areas such as Hampsthwaite HBC's preferred option for Hampsthwaite is RL3036 - Land South of Brookfield, Hampsthwaite. Access would be through the 'Brookfield' estate on either Brookfield, Brookfield Garth or Brookfield Crescent. The proposal is to provide about 100 dwellings, to be a mix of market housing (50%) and homes for local people and families at affordable prices (50%). This is a large site, and is formed by the amalgamation of the previosuly designated sites RL141, RL2061 and a small portion of RL37a (as well as a small area of new land) - see map below and the
previous web site entry
. The site is described as being all agricultural land and has some individual trees covered by a Tree Preservation Order within it, and a public right of way crossing it. The site borders the conservation area and a Listed Building set within a small/medium garden to the northwest. There is also a small pond on this side of the site. This site was part of larger site "Hampst2 - Land south of Brookfield" which was put forward previously for housing. The inspector at that time stated that the loss of green field land would be objectionable (but HBC are attempting to point out that he did not say it would harm the form and structure of the village). The reasons that this proposal was rejected on two previous occasions remain valid today - i.e. (adapted from the appeal summary by the Secretary of State)
it would harm the form of the village, making the area too urban, being a significant harmful intrusion into the existing countryside.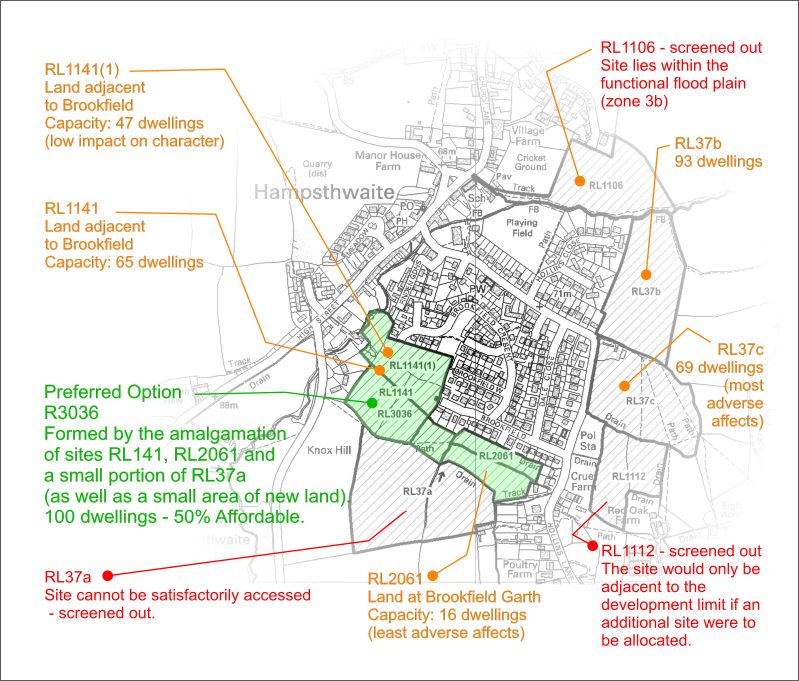 The Parish Council has expressed its opposition to the scheme. All residents will have their own views on this proposal and it will be helpful if as many as possible can make a direct response to HBC. In making your response, you may wish to consider the following:
the reasons that this proposal was rejected on two previous occasions, and with a smaller number of proposed dwellings, remain valid today;
the site boundary is known to be incorrectly drawn;
entry to the proposed site is restricted to Brookfield creating an excessive volume of traffic at this poor visibility junction;
surface water drainage in from Hollins Lane and Brookfield is already overwhelmed at times of even moderate rain;
Hampsthwaite is poorly serviced by public transport;
it would create an unacceptable degree of urbanisation adjacent to the Conservation Area;
in the very recent past, Hampsthwaite has absorbed several developments and an additional large-scale proposal such as this seriously undermines the identity of the village;
the number of new homes proposed represents a 22.5% (!) increase in the size of the village;
it is a serious loss of attractive countryside too close to the designated Area of Natural Beauty
any proposals for additional housing within Hampsthwaite should await the outcome of the forthcoming Localism Bill and take due regard for actual locally generated planning needs;
in Hampsthwaite's Village Plan of 2006, some 75% of respondents wanted no further building development;
local affordable housing needs, as identified in the Housing Needs Survey, conducted by the Rural Housing Trust in March 2006, have already been met at Cruet Fold
For more details
download a PDF file
of the full response by Hampsthwaite Parish Council
Rural Areas Consultation 2010
Full details of the consultation are online at
www.harrogate.gov.uk/immediacy-6695
Here you can download the
West consultation newspaper
(6.5MB) and Harrogate District Sites and Policies DPD:
Assessment of Site Options for Glasshouses to Hampsthwaite
(8.3 Mb pdf). You are invited to submit your comments using the consultation questionnaire. You can download the questionnaire below, complete it and email to
ldf@harrogate.gov.uk
or post to the LDF FREEPOST address (shown on the questionnaire).